"Could It Really Be Possible…
That The Miracle Pie Crust™ Becomes The Number 1# Foolproof Recipe, That's Easy And Fast To Make, And Gives You A Tender, Flaky And Scrumptious Crust Everytime?"
You Want It. You Got It: A Foolproof Pie Crust
Over 60,000 visitors came to everythingpies for pie recipes and help.
I surveyed my visitors and overwhelmingly the top pie challenge was in making the pie crust.
However, it's not any good pie crust you're looking for. You wanted a flaky and tender pie crust that was very simple, fast to make, and easy to work with, foolproof. Basically, you're asking for a MIRACLE!
A pie crust that's:
Flaky and tender
Simple to make
Easy to roll
Easy to work with
A no fuss, foolproof recipe.
Well, you got it! And guess what it's called, the "Miracle Pie Crust™."
You'll be able to bake a pie from start to finish in less than 90 minutes.
Just imagine, your girlfriend calls you at 12 noon and wants you to bring a pie over for a 4 o'clock party. Instead of buying one of those  characterless frozen desserts, you make and baked a homemade pie from scratch. Imagine the look on their faces when you walk in with your golden pastry of beauty.
A Perfect Pie Dough That's Easy and Fast: The Miracle Pie Crust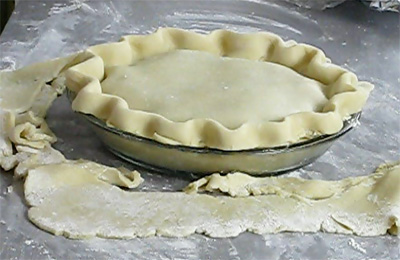 There Are 10 Good Reasons It's Called The 'Miracle Pie Crust™'…
It's very easy to make.
It can be made in less than 10 minutes and ready to use in 15 mins.
It doesn't get tough if you over-worked the dough.
It neither brown quickly in a hot oven or not at all in a cooler oven.
If and a big if, it's easy to patch if the dough should break.
It resists shrinking if it gets stretched.
It's easy to roll and to transfer to your pie dish.
The recipe is foolproof.
It's all natural, no modified junk or strange additives.
And the most important character of my 'Miracle Pie Crust™' is it's Flaky, Tender, and tasted delicious.
The Miracle Pie Crust Will Deliver…
Have you made a pie crust, following the recipe exactly, and it turned out tough? Not with my 'Miracle Pie Crust™'
Have you ever rolled out your pie crust just to see it fall apart when you placed it in your pie dish? And ended up patching it together? Not with my 'Miracle Pie Crust™'
Does your pie tend to burn quickly especially along the edges, or not brown at all? Not with my 'Miracle Pie Crust™'
Does your crust like to shrink too much when it hits your hot oven? Not with my 'Miracle Pie Crust™'
The original 'Miracle Pie Crust' course is a three-part video course to get you started baking great pies in short order…
Part 1: I'll give you the Miracle Pie Crust recipe and how to put it all together with common kitchen tools you own. I'll explain the complete process and how to make the best use of your time to make and bake a homemade pie in under 90 minutes.
Part 2: We'll work on the pie filling for a berry pie and how to be efficient at it. Then I'll show you how to roll out the dough. Here we'll assemble the complete pie, with a beautiful crimp.
Part 3: We dress up our pie with a glitzy finish. Customize it with your personal touch. How to bake it? Without burning it. How to transport your pie safely? To your event. That's it, easy as pie. So let's get to it.
Frequently Asked Questions:

How long is the video course?
Video 1 is 11 minutes, Video 2 is 11 minutes, and Video 3 is 9 minutes.

Is there a money back guarantee?
We offering an unconditional, NO-question-asked 7-day money back guarantee.

If for whatever reason The Miracle Pie Crust™ does not satisfy you in any way, simply send us an email within 7 days from your purchase and we'll refund you right away!

Are all of the ingredients natural, no man-made stuff?
Yes. All of the ingredients are natural and can be found at most grocery stores.

Is there a secret ingredient?
Yes! It has never been disclosed until now. We ask that you don't share or publish the Miracle Pie Crust™ recipe in any form. It's for your eyes only. We thank you for honoring our rights.

Money Back Guarantee

Secure